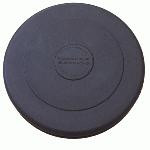 7.5" Rubber Hatch
$45.00
This replacement hatch features a soft rubber edge with hard center.  It will retrofit to older VCP hatch coamings used on the bow of some Seda Kayak models.   The manufacturer recommends treating with 303 regularly for maximum UV resistance.  Note that the 7.5" measurement derives from the inside of the hatch mounting ring, and is the maximum size of an object that will fit through the hatch, not the size of the hatch cover.   To ensure fit, you can measure the mounting ring on the boat and compare to specifications below.
On older boats, the original hatch may have also used a stainless steel clamp for ultimate closure. This clamp ring is no longer used or available through Seda, and can be disposed of if the old hatch is replaced with this part.
Please note that VCP and Kajak Sport hatches are not interchangable.
Specifications:
Outside Diameter - Hatch: 8.75"
Outside Diameter - Mounting Ring (on boat): 8"
Inside Diameter - Mounting Ring (on boat): 7.5"